For the first breakfast in the New Year the Cat chef recommends a crab! With this wise advice We, Zarathustra the Cat begin a new column dedicated to the Arrrt of Still Life and to the Arrrt of cooking, as French people call them in a very cat's manner, la naturrre morrrt et les gourrrmiaoundises:
Who can imagine the art of still life without Dutch old masters? How can this kind of art exist without their discreet charming bourgeois breakfasts?
But you should notice how this still life begins to live real life if you add a cat to the painting! Cats improve everything, but cats are really best in improving still life.
As a matter of fact, everything that you usually see at a still life painting, is prepared for a cat or it is a result of a cat's act over the things prepared for him.
Ignoramuses may complain about the cups turned over or about a pie with a bite taken out of it, but the wise beings know the upper reason of it. And We shall show to whole world that still life is created for cats.
Look how lonely is this crab at the wall of the State Hermitage Museum without a cat to take care of it: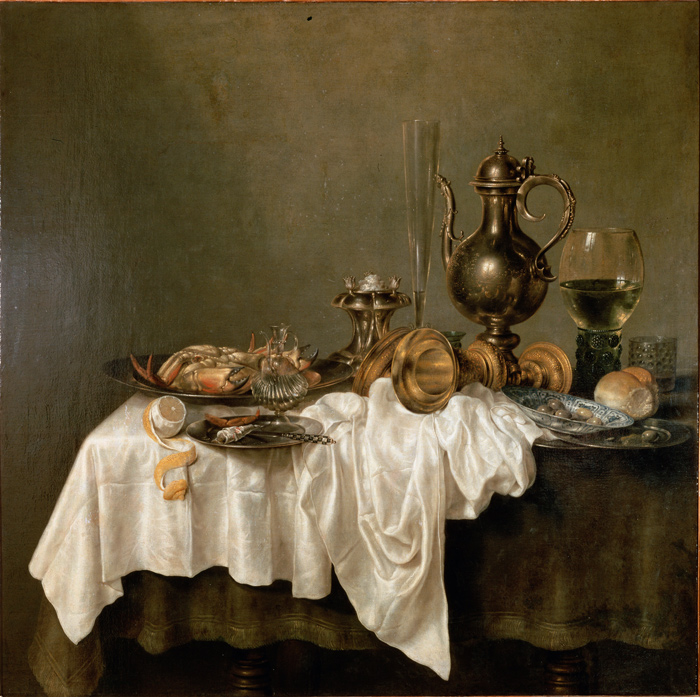 Hermitage is famous also for their cats living in the museum and guarding collection from the rats. So We should make a kind advice to this noble museum how they can improve their still life paintings.
Comments
comments