Our beloved friends, We are happy to announce that for the first time in the history of mankind the exhibition of the Internet kitteh as a piece of art took place. It was in UK, in Abingdon, at Stonehill Barn, 29th May – 5th of July, an exhibition with the name "From ICONS to I-CATS" and We, Zarathustra the Cat was the main hero of it. We presented there 12 pieces of Russian art from the 18th to 20th century, carefully restored by Us to reveal a cat hidden in each of them.
The main piece of the exhibition was a masterpiece by Ilya Repin, "Sadko at the Underwater Kingdom", The painting features a story from a Russian folk tale. Sadko the merchant arrives at the Underwater Kingdom and sees a parade of submarine princesses but he thinks about his fiancee in his homeland.
During restoration works, it appears that the master painted an underwater fat cat as a symbol of wealth that seduces the merchant,
His fiancee that rescues a stray kitty symbolizes the appeal to the charity that every merchant should follow for the sake of humans and cats in need.
This painting, alongside 11 others, that We feature in a gallery below (and We'll tell more about late)r, was exhibited in a beautiful 17th-century building of the former barn. Generations of cats hunted mice there, generously helping humans to keep their harvests safe. Now We came to the barn also to help humans, to make them recognize Internet memes as a new genre of art.
Not long ago graffiti and street art found their way to galleries and museums, now it's a turn of memes.
Our exhibition was the first step in this way. It was a milestone in human art history. Before it happened, there were few exhibitions dedicated to different internet cats, but never before a LOLcat, an Internet meme itself was treated as a piece of art.
Mankind was shaken and human news was full of our images, We were at the top of the BBC and the Huffington Post and nobody has counted reposts.
UK Channel 4 made a report of the exhibition, and you can have an idea of how it was by their shots. Please don't pay attention to my humble assistant, who was forced to represent Us because of severe cats immigration laws in the UK.
We made a limited edition prints series dedicated to this exhibition, and you can buy them at our shop
Here are photos of the paintings at the Stonehill Barn walls:

We were so kind to appear at the #1 at Good Morning America and to improve the Pop News presenter Gio Benitez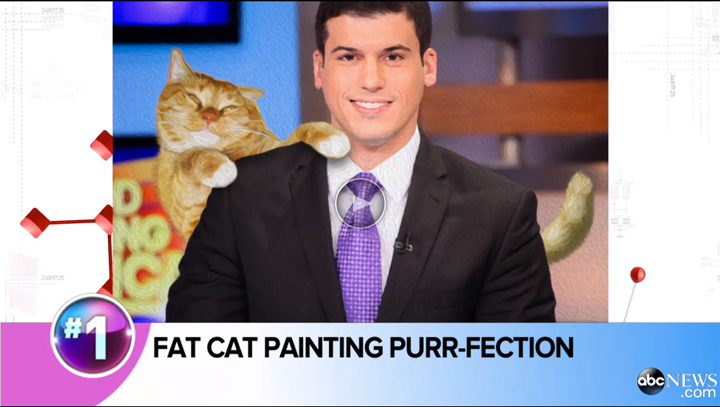 Here We go!
Thus speaks Zarathustra the Cat
Comments
comments