"Banksy or not Banksy?" – This is the question that should every modern Hamlet to ask instead of usual "To be or not to be?". What to do if, waking up in the morning, you see a fresh graffiti on the wall of your house? To take off the masterpiece from the wall ruining it, and to run to sell the piece of wall with graffiti for a half of million dollars? Or work hard to erase the paint cursing bloody vandals?
Banksy painted a lot of characters, people, and animals also, but never before he painted a cat, maybe because his main characters were rats.
And now something changed: Banksy painted a cat! A cute orange internet cat! #banksy or #NOTbanksy?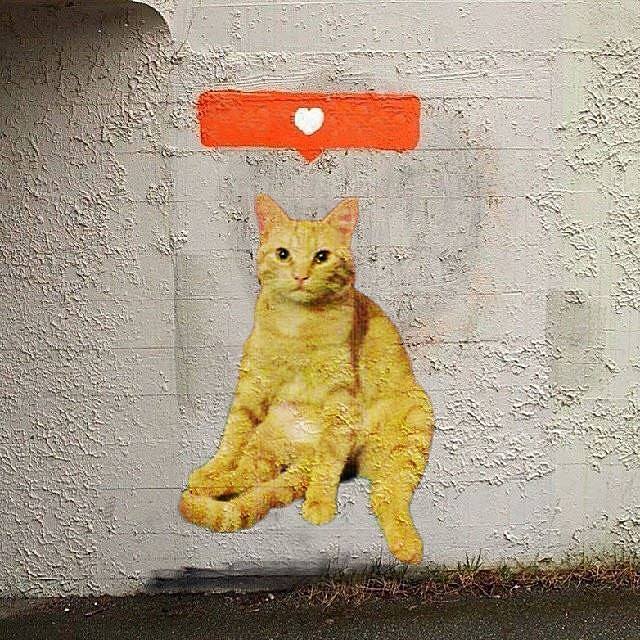 OK, We always thought that street art and cat memes are very close!
At the very beginning of Our travels in the World Wide Web, some people thought that it was Banksy who photoshops fat orange cats in famous paintings. It appeared to be wrong, We, Zarathustra the Cat, walk by Ourselves, as all kitties do.
Well, now Banksy seems to be close to doing it: to photoshop cats for the Internet.
We dare to ask Ourselves: may be We, Zarathustra the Cat, inspired Banksy to pain a cute orange internet cat who looks at us waiting for likes. And the cat just finished Our favorite creative process.
So We decided to ask about this Banksy himself: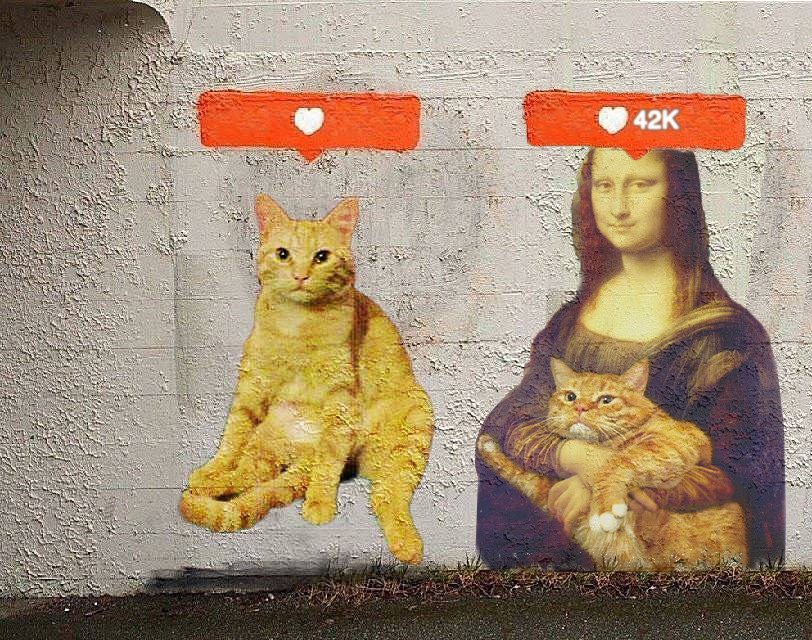 Dear human Banksy, is this true that you've painted an orange internet cat because you liked Mona Lisa and Me in the net?
If it is true, can you please bring Mona and Me to Louvre and put us nearby Leonardo's Mona Lisa? You know, We are a fat cat, and Mona Lisa is a lady, so we hardly can crawl into the museum at night! And we both are so slow to escape from the police after it! And you have extraordinary skills in all that stuff.
Many thanks in advance!
Thus speaks sincerely yours Zarathustra the Cat.
P.S. Hmm, We here have thought may be better you just provide us the whole Louvre Museum, as you did occupy the Bristol Museum before:
Dear street artist! Please help your little brother an Internet cat to get into a museum! Pleaaaaaseee! Please, please,please,please,please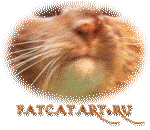 Comments
comments