It happened a long time ago in a galaxy far, far away, in a period of Covfefe. We, Zarathustra the Cat, was asked by a young scientist from Harvard to improve by Our precious self both famous paintings and world leadership. We passed about a month in Our historical research, and made an amazing discovery.
Here is the true version of Peter Paul Rubens's famous "Perseus releases Andromeda," which We could proudly call "Perseus and Catfefe":
We, cats, understand a little in the nonsense called human politics.
So you, friends, are welcome to imagine what is happening here.
Some questions need responses:
1. What does this large Perseus do: does he grabs a pink hat from Andromeda? Or he just says nicely: "Dear lady, you might be cold, cause you are absolutely naked, please take this nice pink hat to cover your head at least! It is crucial to keep your head hot, as I always do, wearing a fluffy wig".
2. Why a lady with wings puts a cat on Perseus head? Does she says: "Hey, Perseus, your old wig is out of fashion, please take a fancier one"? Or she already saw what could happen if you try to put us on something smaller than Us?
3. What a guy that straddled Pegasus cat says? Is it "Andromeda, hey, you should wear this pink hat, look at me, I also have bare chest, but at least I have my pants on!"? Or it is: "Perseus, look here, I am on the cat, and you are under it! Bye-bye, I'm flying away, go Pegasus, go!"?
4. What does the cat-wig thinks: "Oh, nice hot place, a bit too hot, but what!" or just "Hisssss! Noooo! Hisss!"?
5. What does cat Pegasus thinks: "Could I take off with such a heavy guy on my back?" or "Wait, why my back is itching? Is it hackers attack?"
6. What is Medusa's head saying "OMG!" on Perseus' shield: is it a TV presenter? A whole world watching the news?
7. What is a bird at the cupid's hands (top of the painting): is it an eagle saying " #MAGA " or just a blue bird twitting " #Covfefe "?
Everything is possible in a far far away galaxy, so We are waiting for your answers!
And may the Covfefe be with you
Thus tweets Zarathustra the Cat
Disclaimer:
We don't want to offend anybody, nothing personal, just art!
P.S. Just compare the true version of the painting to the commonly known one, to be found at the Hermitage Museum: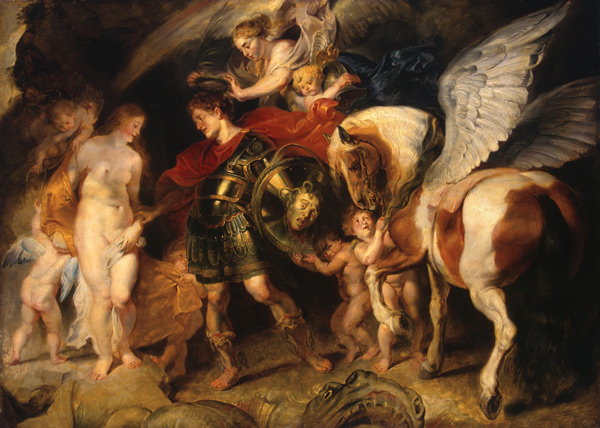 Comments
comments